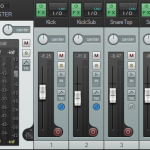 This is the initial demo release for Friday's Fox entitled "Night Hunter". We hope you enjoy it! Further tracks will be released in the near future.
Friday's Fox – Demo – Night Hunter (mp3 ogg flac)

Demo by Friday's Fox recorded at Studio Finetime by Patrick Tapping and Conor Kinsella on 20/9/2014 and is free to distribute under a Creative Commons Attribution-NonCommercial 4.0 International License.